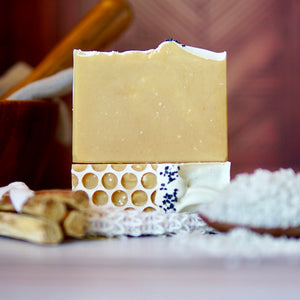 Salted Honey is a salt water spa bar that is similar in feel as sea salt & kelp, as they share the same recipe. Made with dissolved sea salt for a smooth bar, this soap contains a lot of honey. The scent is a really nice blend of orange, lemon, and clary sage.
INGREDIENTS (in order of weight):
~ All-Natural, and Palm-Oil Free ~
Olive Oil, Distilled Water, Coconut Oil, Sodium Hydroxide, Shea Butter, Sweet Almond Oil, Avocado Oil, Castor Oil, Essential Oil Blend, Raw Colorado Honey, Sea Salt, Brazilian Clay, Topped with Coarse Black Sea Salt.

SIZE
- these bars weigh about 5 oz in weight
- bar dimensions are 3.5" w x 2.5" h x 1.125" d

TIPS FOR EXTENDING THE LIFE OF YOUR SOAP
Place your soap in a dish that drains (not flat on the tile or in a non-draining dish!) and ensure that it doesn't get wet between uses. This is optional, but it will definitely make your soap last longer.