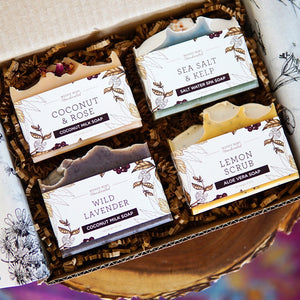 This gift box contains FOUR cold process, all-natural, palm free soaps. You can choose the soaps yourself by leaving a note at check out (please make sure the soaps you choose are IN STOCK!). Or, choose a random assortment and I can choose them for you!
INGREDIENTS
Ingredients vary by bar (please see the listing for the bar to find out the exact ingredients). ALL soaps are cold-process and handmade in small batches from scratch by me. They are 100% natural and palm-oil free. NOT all soaps are vegan. Some contain goat milk and/or honey. Most soaps will contain Olive Oil, Coconut Oil, Shea Butter, Cocoa Butter, Avocado Oil, and Castor Oil, along with all natural colorants (plant-based or clay) and pure essential oils. Additional ingredients like natural powders (ex: walnut hull in Mountain Man) and/or exfoliants (ex: poppy seeds in Lemon Scrub) and/or botanicals (ex: calendula petals, rose petals, etc).
OPTIONS
1. I'll choose my own (leave a note when you check out to let me know which FOUR IN STOCK soaps you'd like to add to your box) -- if you don't leave a note or the soaps are not in stock, I will replace with a similar soap.
2. Random Assortment (I'll pick a random assortment of soaps for you)
3. Random Assortment Vegan (I'll pick a random assortment of vegan soaps for you!)
SIZE
- each of these bars weighs approximately 5 oz.
- bar dimensions are 3.5" w x 2.25" h x 1.125" d
TIPS FOR EXTENDING THE LIFE OF YOUR SOAP
Place your soap in a dish that drains (not flat on the tile or in a non-draining dish!) and ensure that it doesn't get wet between uses. This is optional, but it will definitely make your soap last longer.